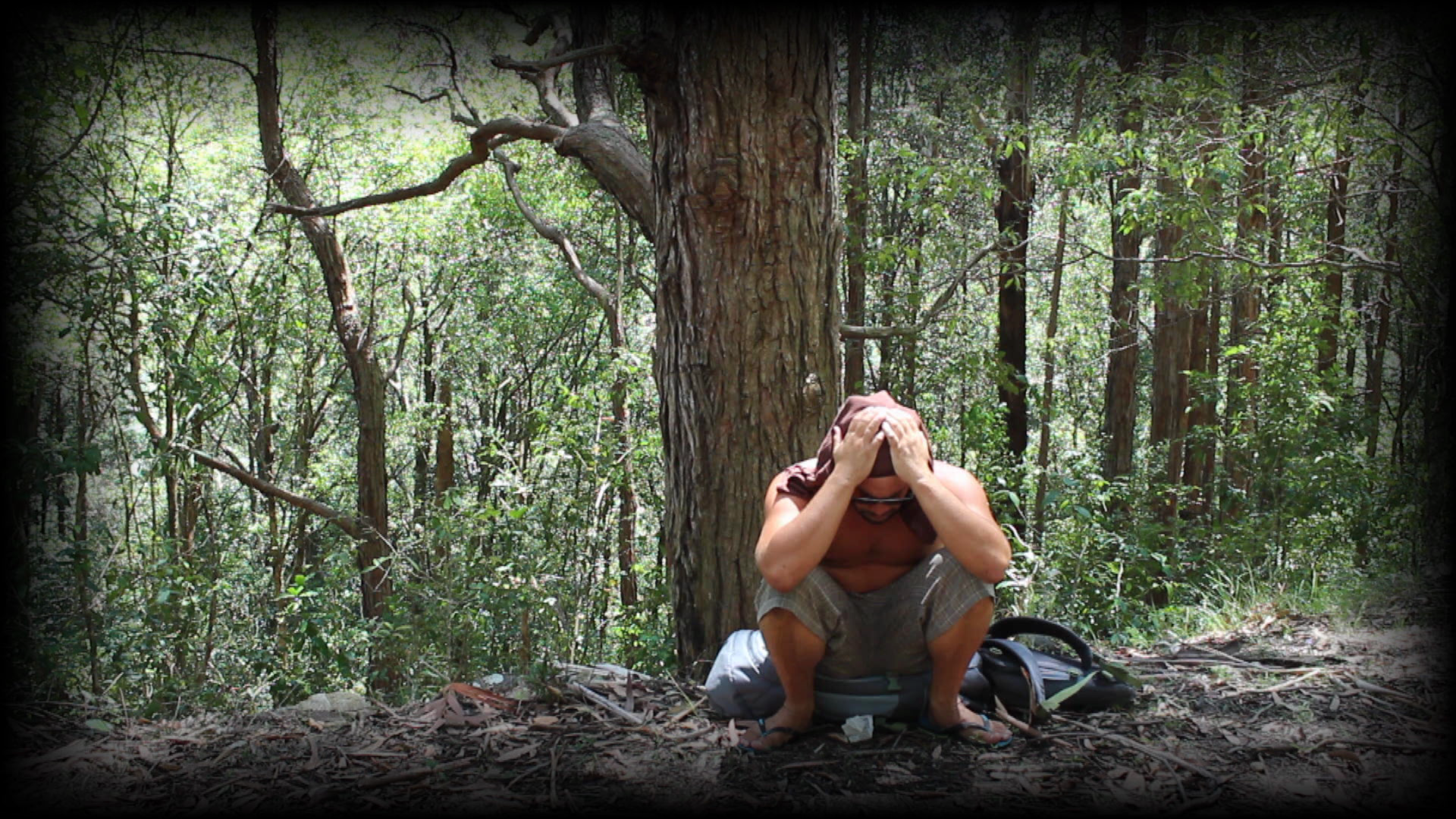 My journey to the tropical island of Vava'u was supposed to be a quiet, relaxing end to my trip through Tonga – a few days on the beach, some beers, that sort of thing. Instead it became a nightmarish fight for survival that pushed me past my limits and almost cost me my life.
I'd flown out to the Pacific Islands two weeks earlier to escape another broken relationship and the depressing emptiness of my studio apartment. Hopping from Samoa to Fiji to Tonga, I'd slept on beaches, climbed trees and been attacked by wild dogs, but nothing could prepare me for what was to come.
I took a taxi through the blistering Nuku'alofa heat to a cottage made of sticks that the locals call the airport, and the heavy-set girl behind the counter gave me a smile and told me that I was too late for my flight. My watch didn't agree with her – it said I was an hour early.
As I argued the point, her story kept changing. The flight was overbooked, I had the wrong day – I'm surprised they didn't try blaming space aliens. My ranting and raving continued until, in the distance, I heard the whomping of a propeller starting up. My three days in Vava'u had become two.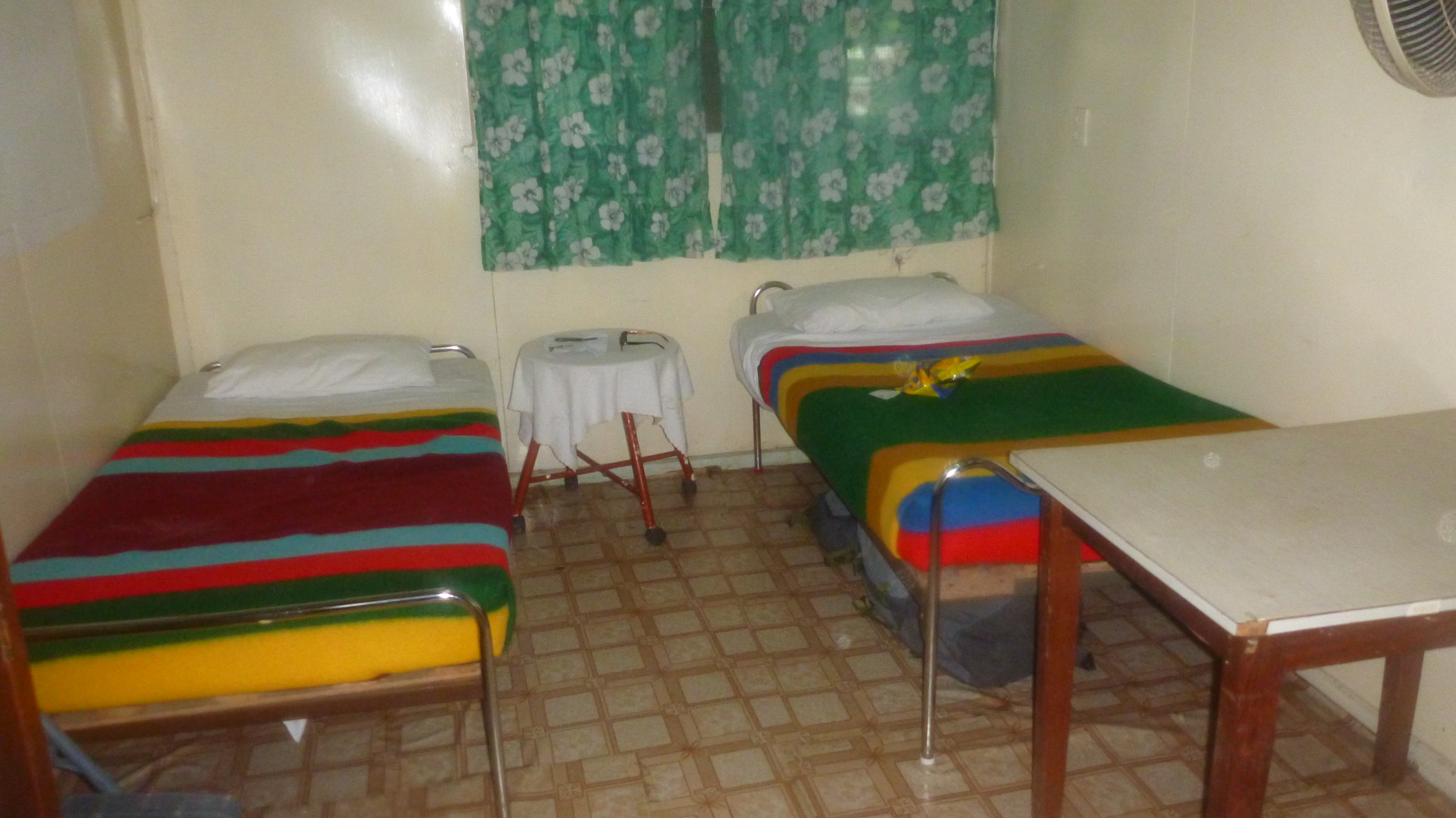 Perfect ambiance, with just a hint of cockroach turds and urine
The same taxi I'd taken to the airport took me back through the handful of faded cottages that make up Nuku'alofa and dumped me in a scabby guest house with rat droppings decorating the floor. The smell of Dettol almost covered the stink of urine.
"Well, I'm going to get drunk," I muttered, before storming out in a foul mood. I was hungry and thirsty and pissed off, and Nuku'alofa was as quiet as a tongueless monk in a library. Turns out it was a public holiday, and almost everything was closed.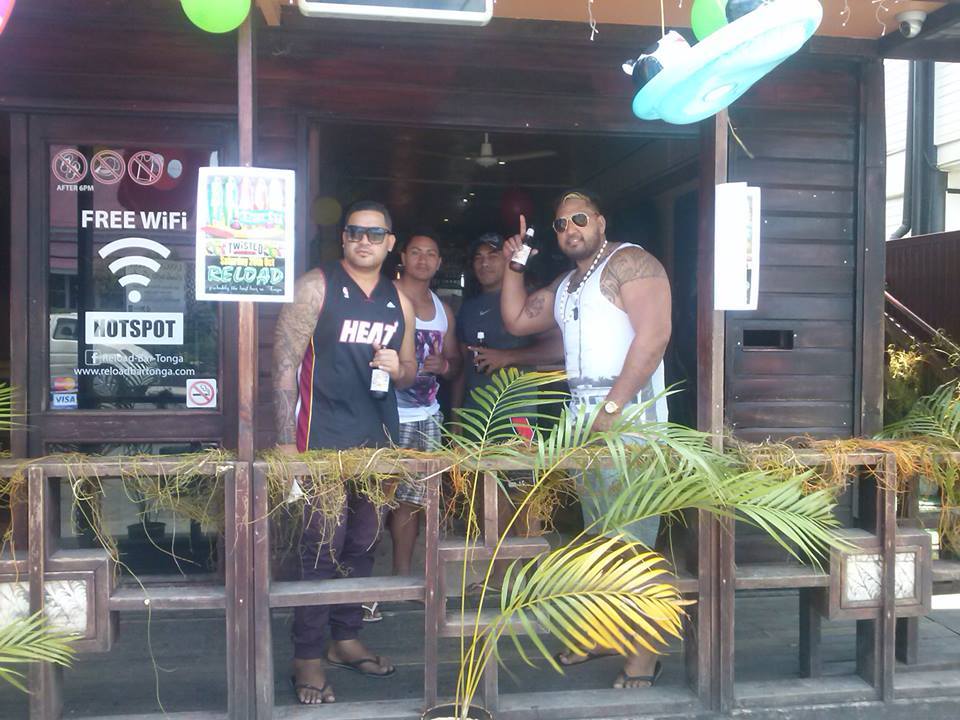 Some of the friendlier locals
I finally tracked down a rickety wooden pub that might've been nice once and the first bottle of Popao barely touched the sides, so I knocked back another, determined to drink away my anger. Happy Hour rolled around, and the drinks went down quicker. Sleazy 80s disco songs blared from speakers as the sun went down and neon lights flickered to life around me. As seven o'clock crept up I was wobbling around like a jellyfish at a rave party, and started chatting to a huge Tongan bloke called Terry. He told me he was a high-ranking cop and into cage fighting, and looked like he could snap me in half. He seemed nice enough and we shared a few beers, until I noticed he was creeping closer and kept making comments about what a good-looking bloke I was and how the girls must love me. I don't hear that a lot, so it made me uncomfortable.
Then Terry introduced me to his mates, a couple of freaky-looking transvestites who were giggling away in the corner. Terry put an arm the size of a tree trunk around my shoulder, crushing me like a boa constrictor, and when I tried to move away he just pulled me in closer. His body odour made my stomach churn and I was no longer simply uncomfortable, I was scared.
"You'll come back with us tonight," he said. It wasn't a question, it was a statement.
The toilet provided brief sanctuary, but when I returned Terry had another beer for me. It tasted sour as I downed it, and the big man told me about his work with the police, especially how he can track anyone down – including me. Things were turning bad. I was in big trouble in a foreign country, and very much alone.
I've met a lot of freaks over the years, but this was the first time I've genuinely felt in real danger, and I had to do something about it. Something brave and masculine and – forget about that, I just ran away like a little girl. Terry was blocking the door, but when he turned to talk to one of his friends I raced past his hulking frame and into the muggy night, then down the street to another bar. I slugged down a beer to settle my nerves, then the door slammed open and Terry was standing there with bad intentions written all over his face. I dived behind a fake palm tree, pulling the fronds closer as the monster looked around, then let out a sigh of relief when he trudged back outside. As soon as he was gone I darted outside and ran in the opposite direction, ending up in a deserted Chinese restaurant, being blasted by the freezing breeze of the air conditioner.
Post almost-raped blues
I'm not too proud to admit that I almost broke down when I made it to safety and the enormity of the situation hit me. As my sweet and sour pork was served I had to hold back tears as I did my best to slow down my racing heart. I distracted myself by eating and drinking and chatting up the pretty waitresses, and my memory from that point is a bit hazy. The girls led me to a rundown bar, where I got as drunk as a politician and danced like an octopus at a Wiggles concert. I must've had a good time, because I spent all my pa'anga.
Doing Australia proud
The next thing someone was kicking me in the ribs and saying, "Get up, get up, why you on the floor?"
I wiped a rancid rivulet of regurgitated rice from my mouth and sat up. I was on the floor of my room and my answer, for some reason, was "I'm an Australian," as if we all regularly sleep on piles of cockroach turds.
With my head pounding and my vision blurred, I somehow made it back out to the airport, where I was told once again that I wouldn't be flying. With enough alcohol in my system to keep Matthew Newton going for a month, I wasn't going to take that and caused a scene – which obviously worked because they eventually let me get on.
Little did I know, my insurance was voided the moment I stepped onto this shitheap
The plane was tiny, old and held together by bits of tape, but I was so drunk that it didn't bother me. My brain could barely register that I was off the ground and zooming over tiny tropical islands that looked like teardrops below me. Despite the rattling of the wings, I managed to pass out, and when I woke up we were landing on the delightful island of Vava'u.
Tonga is stunning from the air… even with a hangover!
I was still blotto as I picked up my bag and stumbled into a banged-up taxi with a cute sheila from Norway. I did alright with her, too, despite looking and smelling like I'd just crawled out of a toilet. By that I mean she didn't run off screaming.
The driver dropped her off in town (alright, Neiafu is more like a whisper of a village), but my place was a few kilometres out. And he'd never heard of it, which wasn't a good sign in a place that has maybe a dozen guest houses. The driver dumped me in the middle of nowhere. It was scorchingly hot and I was dripping with sweat, and I staggered blindly down a dirt road through the jungle, with an old bloke who had a massive machete trundling behind me. Things were getting bad.
I was pretty much ready to die at this point
After a few kilometres, the tracked ended. My phone had no reception, the locals didn't speak English, and I was dangerously dehydrated. The steady hum of insects in the thick bush was maddening. I had no option but to walk back along the track, through the sweltering bush, with my heavy pack on my back. Nightmare creatures lurked at the edge of my vision, and weird thoughts crawled through my brain. I felt as if my body was shutting down, but I had no option but to keep walking – if I stopped, I wouldn't get back up, and there was nobody to help me out.
As I was stumbling along, I heard a rumble behind me. It was a truck, and I flagged it down and begged to get in the back. A smiling Tongan pulled me into the tray and I sat on a big pile of bananas, then guzzled greedily from a bottle of water, slowly feeling life return to my body.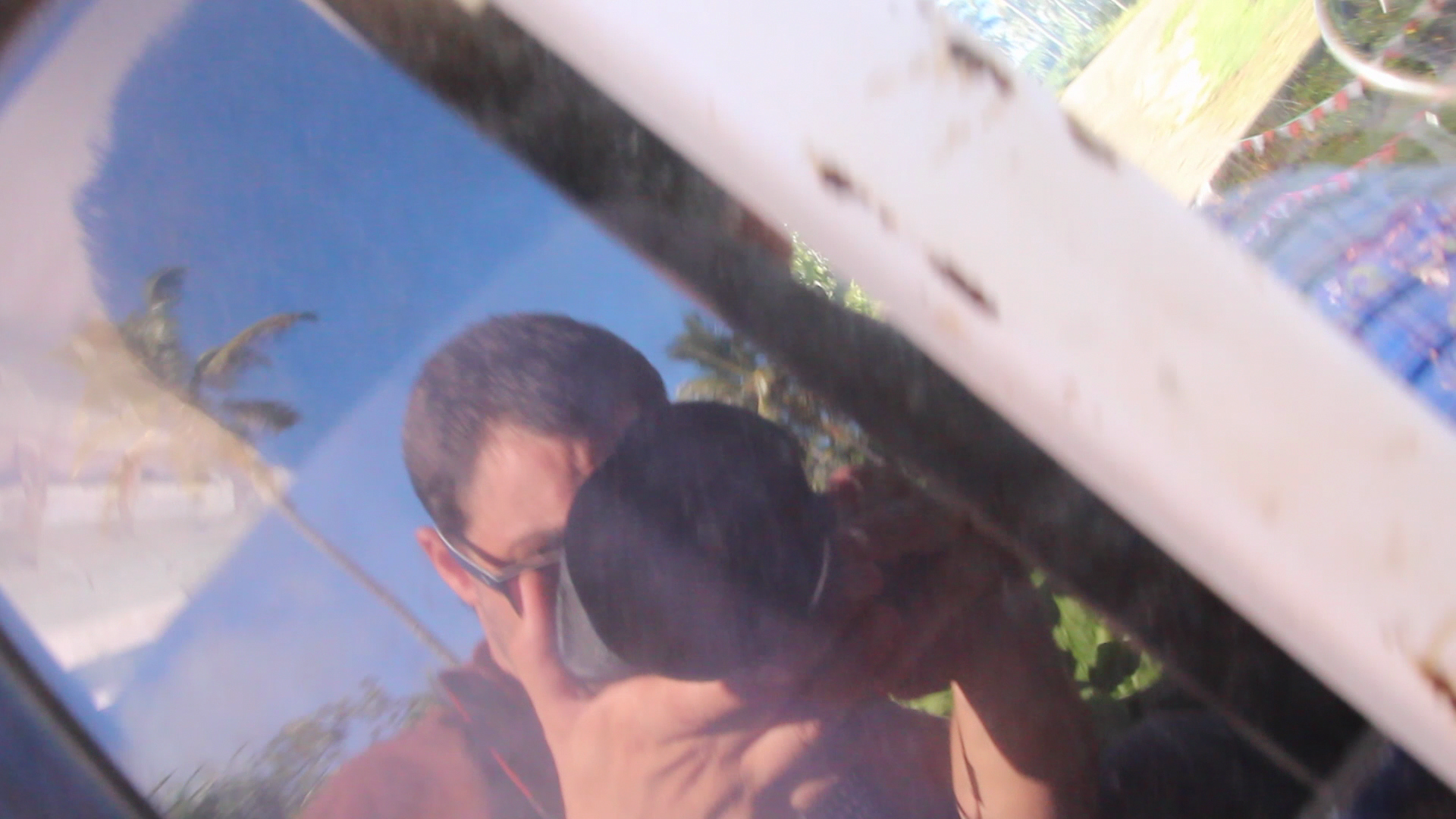 Bangin' round on a banana truck
My saviours dropped me off in downtown Neiafu, and I checked into the first place I saw – a rundown backpackers overlooking the water. Hungover, dehydrated, hot, tired, pissed off, stuffed around and shaking, I collapsed onto a thin mattress and contemplated crying myself to sleep. It had all been too much.
Stunning Neiafu
When I awoke, the sun was threatening to call it a day, so I grabbed my towel and headed out amongst the palm trees, not really sure of what I'd find. It took me a minute of two to reach the outskirts of Neiafu, which is a beautiful and peaceful village that clings to the cliffs above a sparkling harbour. I found an abandoned resort, climbed a fence into it, and found myself on the edge of the water. I lay out my towel and relaxed, enjoying the sunshine and happy to be alive.
Sometimes I'm happy just to be alive
I like living on the edge, but this was stupid. In 24 hours I'd gone close to being raped, almost drunk myself to death, and come far too close to dying by the side of a lonely road in the middle of a remote island. So much for a few days bludging by the water.