I usually go camping alone, and end up with my pants off, dancing around a fire by myself. Occasionally I decide to be a bit more social and go camping people, which is exactly what I did this weekend, with a short jaunt to beautiful Lake St Clair. You might remember it from my near-death experience a few months ago.
In attendance were my brother 'The Dagwood Daddy' Ben, Wade, Mitchell, Dezza and Leon. Also in attendance was a heat wave that would melt the cock off a Greek statue, with temperatures hitting 43 before we even headed off. I haven't been so warm since I decided to wear my doona to work.
Lake St Clair is home to some of the most magnificent scenery in Australia, with sheer, green mountains rising out of perfect blue waters. It's remote and strange, quiet and perfect, and the camping ground is incredible. Not so incredible was the caretaker of the place, an obese slug with tattooed-on eyebrows and a serious problem with hording. She lives in a tiny caravan that smells of BO and dog shit, and I'm pretty sure if you looked closely you'd find bottles of urine stacked up in there.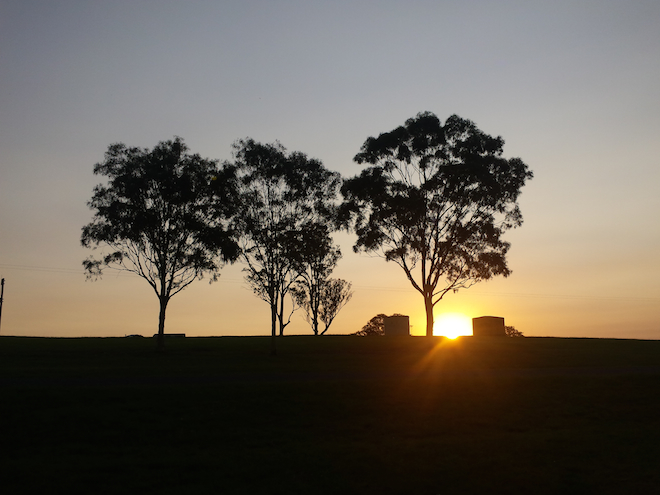 The first night was just beautiful, as the sun slunk behind the horizon and the goon started flying. It's an incredible part of the world, and it was lovely to watch the water turn orange and then purple and then black, as the day dribbled away. Music played and conversation flowed, and before I knew it, it was almost 5 in the morning, which was my signal to pass out under a tree with my trousers around my ankles. I guess it doesn't matter who I go camping with or where I go, I always end up naked in public.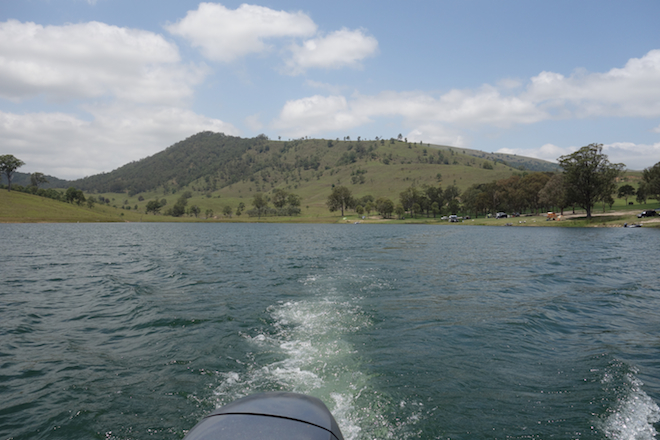 When I got up the next morning I was still drunk, so I did my best to polish off the rest of my cask before we all headed out in Wade's boat. I'm not much of a fisherman (people who don't eat land animals but eat fish annoy me, so I eat fish and not land animals, just to piss them off), so I went for a swim instead. The lake was dammed about 30 years ago, and the corpses of long-dead trees still poke out of the water, providing an eerie backdrop for a lovely splash. I even felt a slimy eel brush my leg, so now I know why none of my ex-girlfriends have enjoyed snuggling up with me in bed..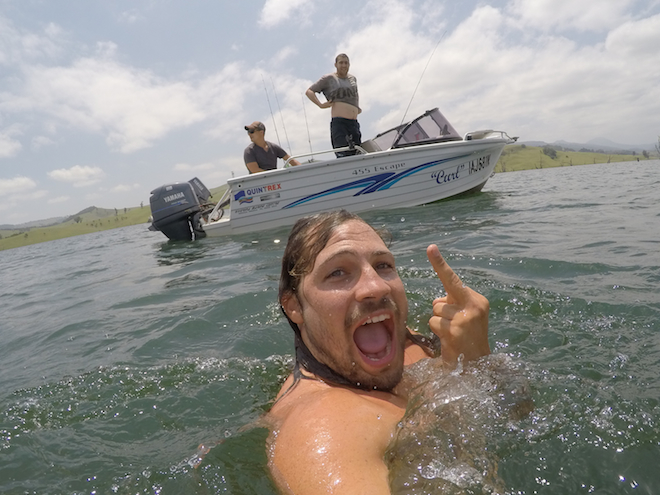 The weather turned and the wind picked up, so we beat a hasty retreat back to land, where I discovered my tent had collapsed like every boner in the room as soon as Penny Wong walks in. Actually, that's putting it nicely, because the thing was fucked and there were poles pointing in every direction like a gang bang porno.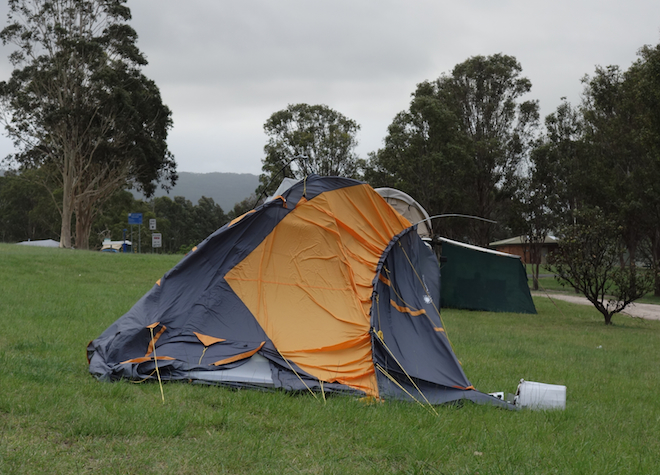 As I was trying to put the stupid thing back together, a fat, shirtless man wandered over to me with a confused look on his face. "Have you seen my wife?" he asked. "She was there when I left to go to the toilet, and now she's gone. I think someone kidnapped her."
He left before I could ask him what his wife looked like (if he was anything to go by, she probably hadn't popped off to compete in the finals of the Miss Universe competition) and I went back to fixing my tent. Twenty minutes later, he was back, with a big grin on his face.
"You must've found your wife," I said with a smile.
"Nah," he replied. "I just realised she didn't come camping with me." And then he swaggered off into the sunset.
The second night was somewhat more reserved than the first, owing to everyone having hangovers. But we still polished off plenty of booze while the storm kept storming and my tent did its best to fly into the sky like some sort of oversized butterfly. My brother pulled out a box of frozen Dagwood Dogs and attempted to cook them on the BBQ, before finally deciding to eat the half-frozen and half-burnt. Finally, unable to polish off the last two of his eight Daggies, he threw them away, only for a couple of lucky possums to race over and tuck in.
The next day's weather was as angry as a hungry stepmother, so we packed up early and got the fuck out of there. As we were leaving, the shirtless bloke stopped our car. "Fellas, can I just check your boot to see if my wife's in there? I haven't seen here all morning." We floored it and got out of there.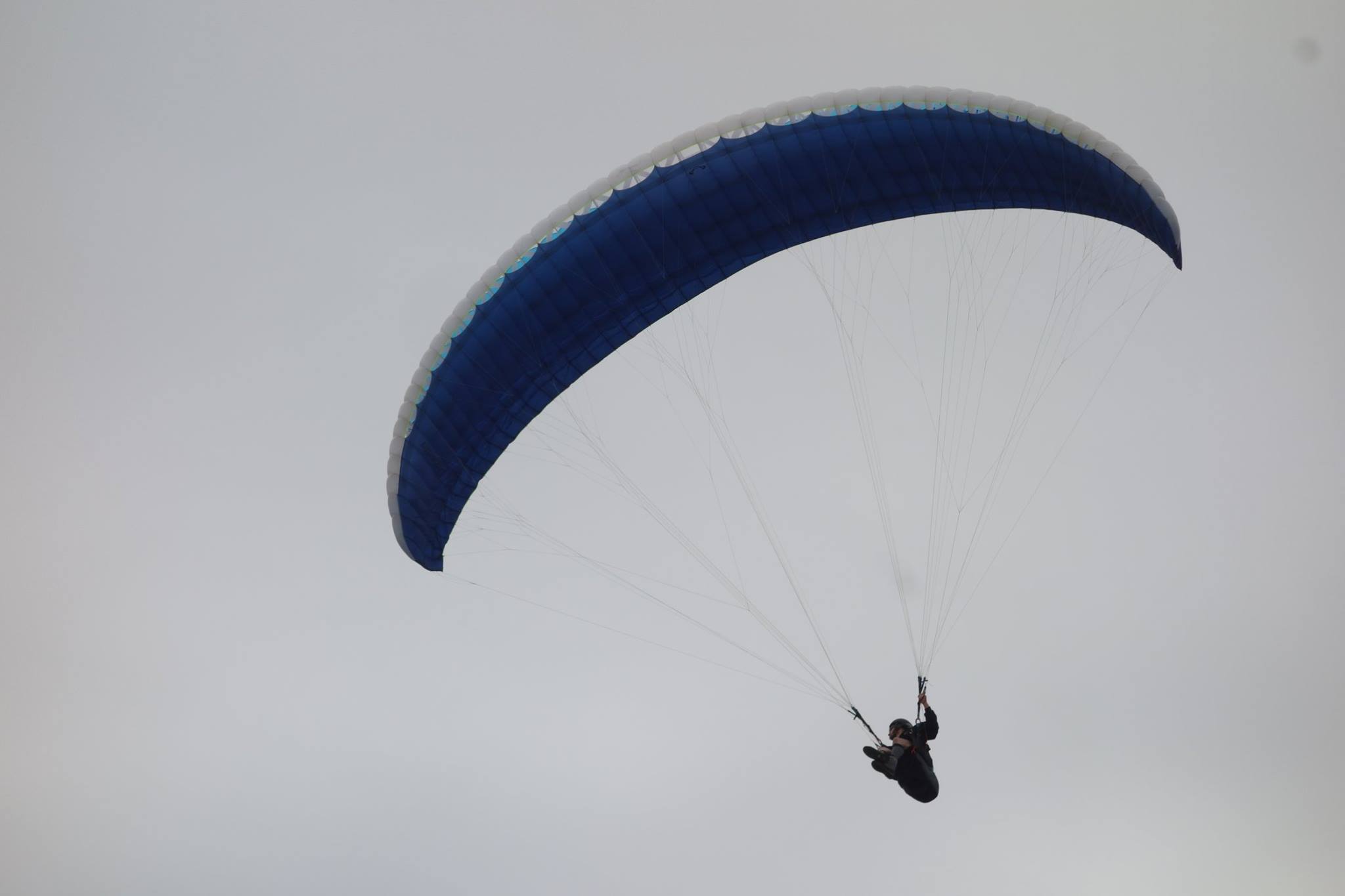 The weekend ended with a much-appreciated bout of paramagliding at the beautiful Catherine Hill Bay. The conditions were poor and the ride was short (but enough about my sex life!), but after my flying troubles it was just great to get out there and fly through the heavens for a minute or two.
Just to float above shrubs, and dance in the air, and be away from troubles for a time. It really is wonderful. There were times when I thought I might not fly again, to have this short flight meant so much. And I didn't end up with a barbed wire fence up my blurter, which is always a good thing.